The Santa Fe trail stretches from Independence, Missouri to Santa Fe, New Mexico. The trail is almost 900 miles and crosses parts of five states. I have not traveled all along it's length but I have been to a number of neat locations and I hope to visit more.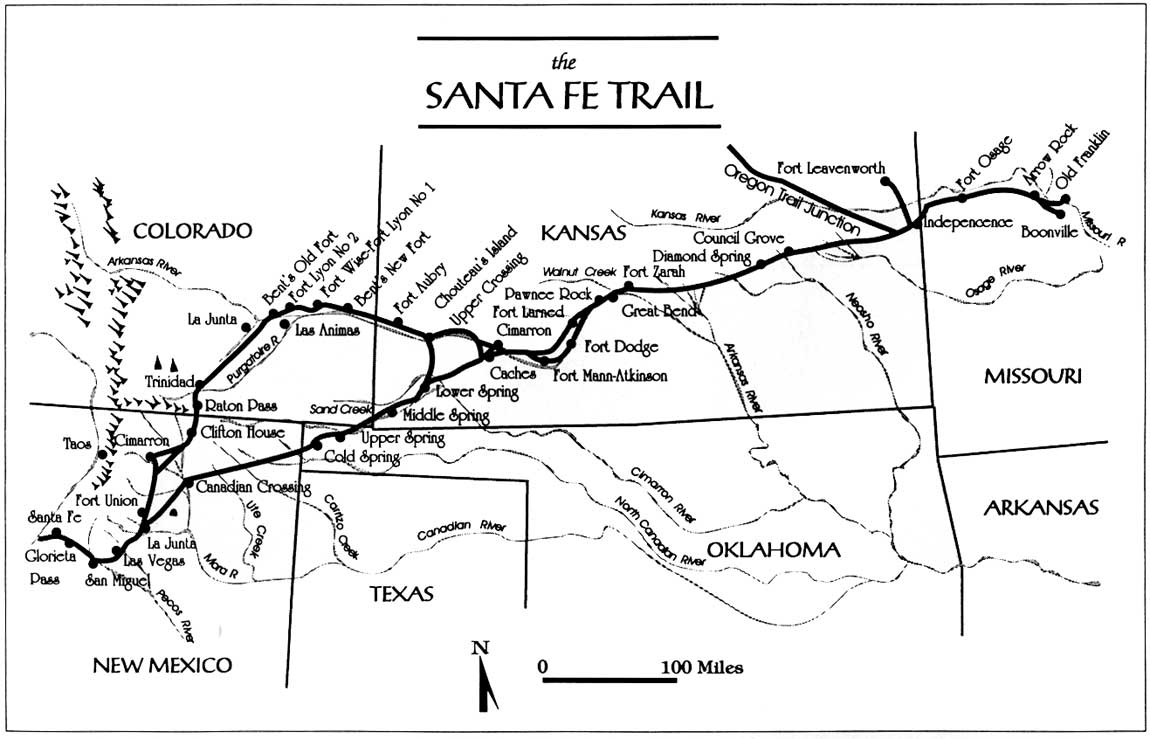 Dodge City
When those traveling the Santa Fe Trail reached Fort Dodge, east of current day Dodge City, they had a choice to make. They could take the shorter Cimarron route or the longer mountain route. The mountain route was often selected because it had more reliable access to water than the Cimarron route. When we visited Dodge City, we visited the Boot Hill Museum.
Outside of Dodge City, the wagon wheel trail tracks can still be seen just off the highway. This is a neat (and free) stop that allows visitors to see the land that those seeking a better life rolled over in a covered wagon. The trail tracks also can be seen on Google Maps.
Cimarron Route
If travelers selected the dry route, one of the places that they would have potentially stopped for water is at Wagon Bed Springs. This national historical landmark is actually on private property. However, as with other locations in Kansas, the public is allowed to visit as long as they are respectful. This site is free to visit. Part of the drive out to this site is on rough dirt roads.
Pioneers would also have traversed the land that is now know as the Cimarron National Grassland. Not much water runs through the river now, most of it has been diverted for farming.
You can also learn more about the Santa Fe Trail at the Historic Adobe Museum in Ulysses, Kansas. This museum is free to visit but they do accept donations.
Mountain Route
The only stop that I have visited on the mountain route is Bent's Old Fort Historic Site. The fort there now is a reconstruction as the original one was destroyed by a fire. We had a lot of fun visiting this site. I was most surprised to see peacocks and peahen at the fort. According to the historical interpreters, there were records of peafowl at the fort in its heyday.
Santa Fe
The Santa Fe Trail officially ends in Santa Fe, New Mexico. I have visited the city very briefly but would love to go back for the history, southwest architecture, and to visit the original MeowWolf.
Have you visited any sports along the Santa Fe Trail? Let me know in the comments and safe travels!
---
Thank you KW Photography for allowing me to use your wonderful photos!
INSTAGRAM│FACEBOOK│TWITTER│YOUTUBE │PATREON
Processing…
Success! You're on the list.
Whoops! There was an error and we couldn't process your subscription. Please reload the page and try again.
If you like the banner check out this design and others at Canva!